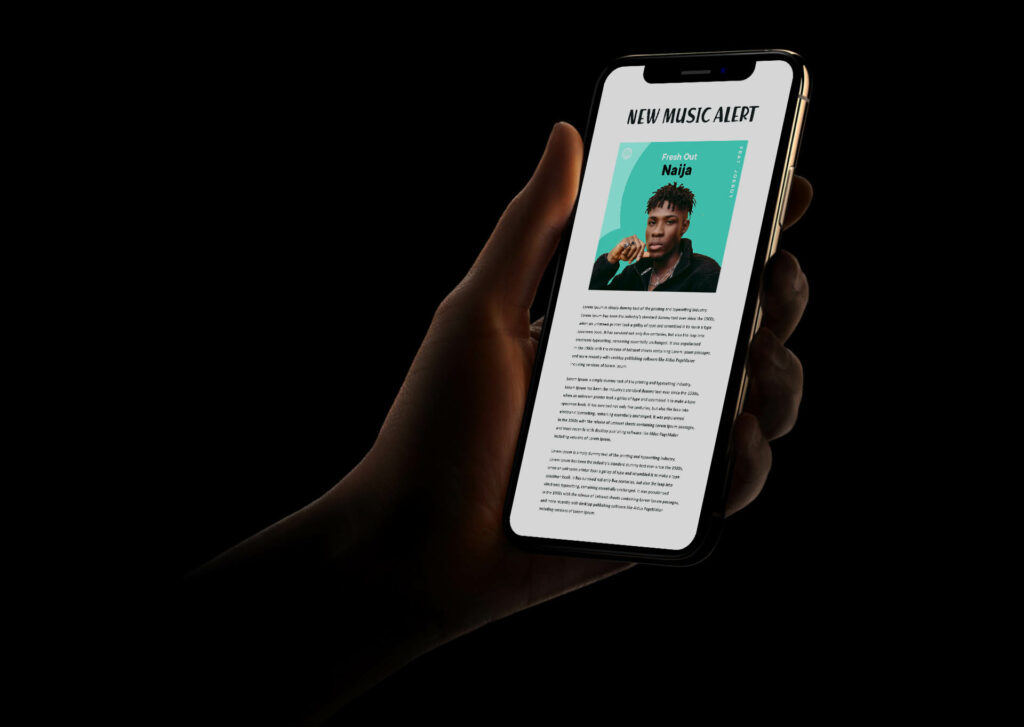 If you are a new Nigerian/Afrobeats artist in or outside Nigeria, and have been struggling to get people to pay attention to your music, today is your lucky day, we are going to show you how to get your songs published on popular Nigerian music blogs.
Music Blogs remain very important in modern day Nigerian music. Blogs such as Notjustok.com broke artists like Wizkid and Davido online when digital music was free and everyone was downloading mp3s around the world.
Back then, blogs became a distribution platform to get as many people around the world to download (for free) and consume music so that songs got popular in different regions of the world... once the song got popular, the artists became popular and they got booked for shows in the parts of the world where that song took off.
Today, with the presence of multiple successful music streaming apps like Apple Music and Spotify that monetize streams, the role of music blogs has changed. They are now a channel to brand yourself as a musician, provide a narrative to your fanbase, and an SEO signal of your popularity.
So it is important that you get published on popular music sites.
Here are the reasons you need to get on music blogs not just once but every time you release music
1. Exposure
There is no better place to expose your music than on a popular music blog, because everyone that visits is coming FOR MUSIC. If you are a newer artist, you need eyeballs to see you and your content consistently. The regular visitors of Nigerian music blogs are usually die-hard, Naija Music fans, because they want to get all the music first. We call them early adopters of good music and they also end up being the spreaders of good Naija music. If enough regular visitors of blogs continuously notice your new releases on their favorite naija blogs, some will eventually start to pay attention to your music and if they are feeling your songs they will share your music with their friends and followers on social media.
2. Narrative
Blogs provide a platform to share the narrative of your brand and journey as an artist via interviews and Q&As and news about you as an artist the bigger you get.
3. Search Engine Optimization
When a new fan searches for your name and song on Google and several google results appear it sends the right message, but if only one or two results appear, that potential new fan may lose interest... but don't worry, just keep reading, we will show you how to get your music on these popular Naija music blogs.
4. Referrals
Most blogs embed links and widgets from Apple Music, Spotify, Audiomack, Youtube and other music streaming platforms. A typical music blog visitor would play or click the streaming links to listen, which helps increase your plays or referrals. These actions add to the bottom line, which is to help you make money on these streaming platforms. Is your music on Apple Music and Spotify, if not you need to get it on via a music distribution company?
5. Getting Verified on Social Media
If your music is not actively published on music Editorial websites, you may find it difficult to get verified on Twitter, Instagram and Facebook. If you google yourself (artist name) and you have zero articles about your music or news about yourself as an artist, the social media services will see the same thing when they google you as well, so you need to get both your songs and news about you on popular music blogs to have a better chance at getting verified on any social media platform.
What Won't Work
Because you are one of many fast-rising Nigerian/Afrobeats artists with amazing music, the number of requests coming at Naija music bloggers is super overwhelming, so it is difficult to stand out today and catch the attention of a writer at these blogs.
This means some old advice like the ones below has a 99.99% chance of not working. Here are a few of them and why they won't work …
Sending a blast to a Blog Email list
Bloggers receive about 20 to 200 emails a day and an email blast from an unknown artist will usually get ignored, so don't email blast bloggers. You will wait for a favorable response for years… which means you will probably never get a response… again don't worry we will explain other methods that are sure to get you a higher success rate of getting your music published on Nigerian music blogs.
Formatting your email and title to hook a blog editor
This could work to get the email open, but nothing actionable will happen, because again the blogger doesn't know you or your music.
Reaching out on Social Media
Even though this can work depending on how good your song is, it can also backfire because if you DM a blogger too much they can ignore or block you and it makes it harder for your music to get featured on their site.
What Will Work
Before listing ways to get your music posted on Popular Music sites, the first step is to ensure that your music is good if not it will be difficult to receive the benefits of getting posted on Naija music blogs
1. User Entiar
Entiar is a music marketing Agency that can guarantee that your songs will get posted on all prestigious music blogs in Nigeria.
Submit your track and Music Video
2. Get Popular
Become a celebrity - Laycon is the newest, biggest Nigerian artist because of his popularity from winning Big Brother Nigeria. Did you know that he had been putting music out since 2018 and only started getting popular after his BBNaija win. What Laycon did is not guaranteed and is tough to accomplish.
Your other talent - Think about how Falz and Teni became big; their sense of humor on social media got them viral and the popularity transferred to their music and helped them become successful artists.
3. Sign to a Popular Label OR Form Strong relationship with a Manager
A lot of times if a new artist gets signed to a popular label, they get all benefits that label enjoys; artists such as Ayra Starr, Terri, Rema, Mayorkun and Peruzzi enjoyed these benefits via Starboy and DMW respectively. So if you are that good and have some connections to big labels in the Nigerian music industry, reach out to your contacts and see if you can get a record deal with these big labels. Another angle that can also work is if you are signed to a manager or management that has some big artists on their roster. Remember, your music has to be compelling enough for any big label or manager to want to sign you.
4. Feature on a Known Artist's song
If you can write a song for a big artist or get lucky enough to be featured by a BIG artist and make a solid impression, you may start getting automatic posts moving forward
5. Hire PR or Marketing Agency
You can hire a PR or Marketing Agency; they will pitch your songs to blogs, but they can never guarantee it will get posted. However, if their relationship with a blog is good and the song being pitched is exceptional your song may get published.
All the other points listed that will help you get published on popular Nigerian music blogs above will require a lot of heavy lifting and will take a few years, but you can start getting your music heard right now by using Entiar today.